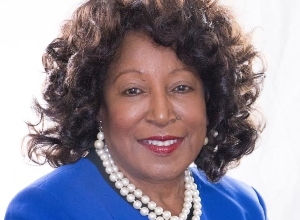 Diversity, Equity, & Inclusion
M. S. Habersham Consulting Services, LLC
Macon-Bibb area resident Myrtle S. Habersham has more than three decades of professional, community/civic and mentoring/leadership service that has been recognized repeatedly through key appointments and special recognitions.
While employed by Federal government, Ms. Habersham held a succession of senior-level positions that afforded her opportunities to hire, mentor, promote and aid in the professional development of thousands of employees/colleagues throughout the country. 
Additionally, Ms. Habersham's tenure with the federal government included 18 years as a member of the senior executive corps, an elite leadership group that numbered just 6,000 from among more than 2 million federal employees.  While a senior leader, she was a three-time recipient of the U. S. President's Executive Rank Awards, an honor shared by only 1 percent of the senior executive corps, and the winner of numerous other awards for professional achievement.  Other awards and commendations earned by Habersham for services in and outside of government include:  HHS Secretary's Award for Exceptional Achievement, Efficiency and Effectiveness; SSA Deputy Commissioner's Citation as Chief Negotiator, National AFGE Contract (representing over 50,000 Federal employees); Atlanta Federal Executive Board's Outstanding Manager and Leadership Award; Andrew and Walter Young Southwest YMCA's Special Recognition Award;  Clark Atlanta University Special Recognition Award; Outstanding Recognition Award, Southern MECCA Records;  Georgia Gerontology Society's Citation of Merit, Outstanding Services in the Field of Aging;  AARP Georgia State Office's  for Outstanding Contributions,  Bibb Retired Educators Association's Certificate of Recognition; AARP Georgia's Dr. Ethel Percy Andrus Community Service Award,  Standing On Their Shoulder's Award,  Cherry Blossom's Carolyn Crayton Award, and Macon Links President's Award for Distinguished Service.
Ms. Habersham retired from Federal government in August 2010 and formed the M. S. Habersham Consulting Services, LLC.  Her company offers a comprehensive suite of managerial consulting services designed to assist business owners, managers or organizational leaders to remain competitive and achieve optimal success.